Art in the Park is in Hermon Park, inside the historic Lawn Bowling Clubhouse.
The exact location is: 34.105793, -118.186111 (google maps)
Driving
The official address of Hermon Park is 5568 Via Marisol, Los Angeles, CA 90042.
The entrance to the parking lot is off Via Marisol, just east of the 110 Parkway. The closest parking is next to the handicap spots, towards the dog park.
Walking
You can reach us on foot by entering the park anywhere from Via Marisol or from the pedestrian ramp on Avenue 60. There are accessible paths to our building from the ramp and from the parking lot.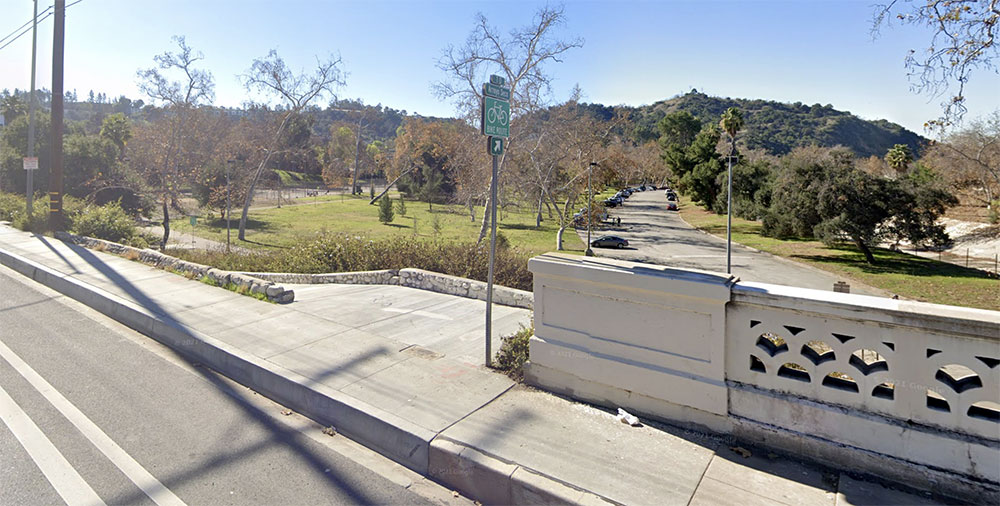 Biking
The Arroyo Secco bike path goes through Hermon Park, with an exit ramp just past Avenue 60, next to the dog park. From there, go under Avenue 60 and follow the path southwest to the first building. There are also bike routes on the streets around the park, but ongoing construction on Marisol makes them somewhat perilous.
Transit
Hermon Park is most directly served by the 256 Metro bus, but unfortunately it's not very frequent.
The 81 Metro bus is nearby on Figueroa. Get off at Avenue 60, walk about half a mile southeast, and take the pedestrian ramp down into the park.
The closest rail stop is the Metro L (Gold) at Highland Park, about 3/4 of a mile away. From the stop, take Avenue 59 southeast to Hayes Ave, then right on Avenue 60 to the pedestrian ramp.